Letter from Pastor Peggy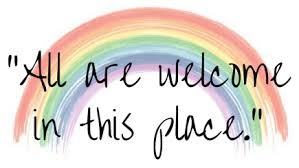 Members and Friends of Lenexa United Methodist Church,
Considering the recent vote of the Special General Conference of the United Methodist Church, it is important to say that, despite the decision of the Global Church, we are still the Lenexa United Methodist Church—a community where "All are welcome," and "All are included in the family of God's grace." That has not changed and will not change.
I am grateful for our local church leaders, who have created an atmosphere where we may dialogue about our differences as we learn and grow together. I am thankful for all of you who took the time to share in the learning sessions offered last November to better inform us of the possibilities before us. As many of you know, I have been and still am supportive of the One Church Plan, because I believe it allows the United Methodist Church to remain a "big tent" of differently minded people engaged in ministry together, while living into our various understandings of the gospel message.
I am saddened that, as a Global Church, we have voted a plan that I and many others, including your "soon to be" new pastor, Ezekiel, believe to be exclusive of the LGBTQ community. Such a decision runs contrary to our experience of the gospel message to love one another as Christ has loved us. It also runs contrary to my experience at LUMC, which I have found to be a faithful, loving, caring community of believers, who follow Jesus by supporting one another through the various challenges we all face in life. That has been the case for 150 years and it will continue to be the case long into the future.
It is my understanding that the Traditional Plan, which passed the General Conference, will now be sent to the Judicial Council, where many believe it will be declared unconstitutional. We will likely know what their decision is in a few weeks. It is too early to know what will happen from there. My hope is that we can somehow stay in United Methodism. However, if that is not what happens, then we will decide as a church together the direction we will go. Regardless, we are not going to change the open and welcome stance at LUMC.
We are fortunate to have in our Kansas City District many who are leading the way toward a more inclusive church. Their work will continue even as our work continues. As more information is available and opportunities to have conversation as a District arise, we will let you know. In the meantime, thank you for your faithful witness to the love of God in Christ as members of LUMC.
Rev. Nanette Roberts, Senior Pastor at Grace UMC reminds us, "The future of the church is inclusive. We are called to be 'bridge builders', respectful of those who have gone before us and opening the doors for those who will come after us." As the Apostle Paul writes to the church at Corinth, "Therefore, since it is by God's mercy that we are engaged in this ministry, we do not lose heart." 2 Corinthians 4:1.
Grace and Peace,
Pastor Peggy